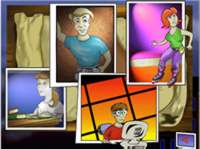 Mysteries of History

History is Cool! You can learn from the past to solve today's mysteries.
I like facts and figures, and history's got lots of those!

I like a good story! Doing research is a bit boring sometimes, but there's usually a story in it.

I like knowing why people did things! Why they made the decisions they made. I like the action in history!
Here's some cases from history that we've solved:
Good luck - and we hope you enjoy them!