Oban's Myths & Legends
What are folk or fairy tales?

explained by Oban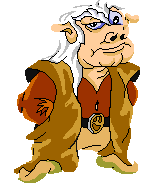 Folk and fairy tales are stories written specially for children, often about magical characters such as elves, fairies, goblins and giants. Sometimes the characters are animals.
Hans Christian Andersen is famous for writing fairy tales. He was born in Denmark in 1805. Examples of his stories are "The Little Mermaid", "Thumbelina" and "The Red Shoes".
In Copenhagen there is a statue of the little mermaid, sitting on a rock on the beach at the harbour, in memory of the writer.
Jakob and Wilhelm Grimm were brothers, born in Germany in 1785 and 1786. They are famous because they collected together many old fairy tales from different parts of Germany and wrote them down for people to read. We know them as the Brothers Grimm and their collection includes "Cinderella" and "The Frog Prince".
What is the difference between myths legends and fables? >>>