Animal Facts
Sloth Bear
(Melursus ursinus)
Description
Appearance
Habitat
Diet
Habits and Biology
Predators
Sloth Bears are shy and gentle. The first name for them was Bear Sloth.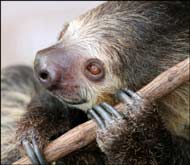 Two hundred years ago visitors in India saw them hanging from tree branches, and thought they were related to the Two-Toed Sloth from South America.
Like the sloth, the bears had long, shaggy fur, they were slow and gentle, they moved around in trees and they ate termites.
Later scientists examined one of the bears in a zoo in France and decided it was a species of bear and not part of the sloth family. So the name was changed to Sloth Bear.
Other names for this bear are: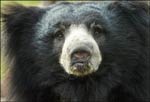 Aswail (used in India)
Baloo (used in India)
Honey Bear
Jungle Joker
Lip Bear.
Sloth Bears live in warm, humid forests or grasslands in Southeast Asia, near the Equator. These bears are endangered, meaning they are in danger of becoming extinct. Scientists think there may be less than 10,000 of them in the wild.
Several zoos are involved in breeding and research programs including in the US at the Woodland Park Zoo, Seattle WA and the Smithsonian National Zoological Park in Washington DC, and in Germany at the Frankfurt Zoo. The Indian Government has set up the Jessore Sloth Bear Sanctuary with help from the United Nations to protect the bears and their habitat here.
Tell me about endangered and extinct animals >>