Animal Facts
Brown Bear

( Ursus arctos)
The Brown Bear is the national animal of Finland and is a protected species in the European Union.

People often think this bear is cute and cuddly. Children's teddy bears often have faces like a Brown Bear cub.
Brown Bear description
The Brown Bear is one of the 8 species of the Ursidae family, along with the American Black Bear, Asiatic Black Bear, Polar Bear, Giant Panda, Sloth Bear, Spectacled Bear and the Sun Bear.
Sub-species
Brown bears live in many parts of the world and scientists don't yet know how many types or sub-species there are. They also haven't agreed on names for some of the sub-species identified so far.
They include:
European Brown Bear – Scandinavia, Romania, Russia, former Yugoslavia, Spain and Italy
Siberian, or Asiatic Brown Bear – Russia
Grizzly Bear – Western Canada, Alaska and Northwestern United States
Himalayian Brown Bear, or Snow Bear - Nepal, Pakistan and Northern India
Kodiak or Alaskan Bear – Kodiak Island, Afognak and Shuyak Island in Alaska
Admiralty Brown Bear – Admiralty Island in Alaska
Syrian Brown Bear – parts of the Caucasus, Israel, Syria, Iraq, Iran, Afghanistan, western Himalayas
Tibetan Blue Bear – Western China and Tibet.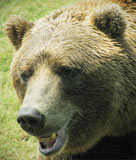 The Kodiak is the larges of these sub-species. The Grizzly is the most aggressive and may attack people.