Detective Club
Be in a detective club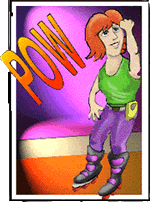 When we got started as the Ace Detectives we investigated things that interested us, and tried to find out why or how things happened.
Friends and people in our families also told us about mysteries they had found. We were curious about all sorts of things.
Being the Ace Detectives grew from doing these things over time.
We don't have cool headquarters like Nancy Drew or the Hardy Boys.
We hold our case meetings wherever we are at the time, and we keep case information, notes and ideas on our computers.